Editorial
Welcome to Kanjini Co-Op's much awaited First Newsletter, which is going out to over 100 subscribers. Thank you all for your continued interest and support!
Together we can turn this timely vision into a reality :-)
Our Biggest News is that we are now officially registered as a Trading Cooperative in the State of Queensland. In the photo below are all six founding members with the nearly one hundred pages of approved documents (yes we were elated after over three years of working towards this moment!).
This is a huge milestone for us! Gaining registration enables us to accept membership applications and thus further expand the Vision. Now that we are 'official' we have opened Kanjini Co-Op bank accounts and are excited about purchasing land! The most frequent questions has been about the land, "Where is the land?" and  "When will the land be purchased?".
While we agree that time is of the essence in the light of growing global problems, we do not wish to purchase a small and cheap property, so we will need more members to put their money in the kitty before we can buy the land. The more members we get, the nicer the land we can buy.
So please come along, join Kanjini Co-Op and help to make it happen sooner.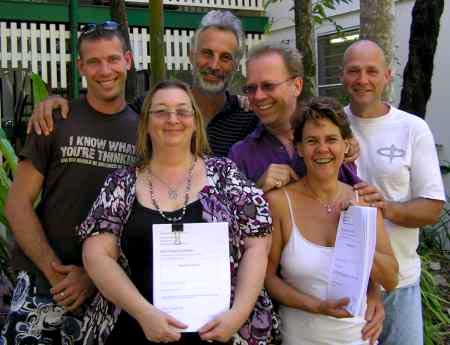 We were very pleased and excited to have met those potential members (thanks for coming along) who attended our first 'Hearts and Minds Meeting', which are now held once a month. As you are probably aware we have enjoyed a few years of developing the Kanjini Co-Op Vision and writing the required Co-Op documents. Now that our registration is completed its time for expanding and developing our Vision further which is what we will do at those meetings, so please come along and become part of this process.
We cordially invite you, ~~Name~~, to share an afternoon of laughter and inspirations, conversation and lively debate, planning and Q&A's at our next Hearts and Minds Meeting from 11am to 5pm on 28th November in Kuranda (please RSVP to 07-40937755 or 0417193898).
Now that Shiralee has landed in her new house (she has been in transit for over a month) and has her fast internet on, the website is being updated. Our approved rules, disclosure statement and associated documents are now all online. We also will have our Newsletter on-line and hope to upload Foundation Share Members profiles soon!
Please keep checking our website and email www.kanjini.org to your friends.
Please spread the Kanjini Co-Op Vision and do tell your friends and neighbours, the green grocer and the cello player.....
On our homepage are links to our hand-out and notice board flyers, please feel free to print them and hand them out or put them on your local notice board, thanks.
In the meantime, if you have not done so already, please tell us a bit more about you by filling in this short questionnaire. Thank you
QUOTE OF THE DAY:
"You may say I'm a dreamer, but I'm not the only one, I hope someday you will join us, and the world will live as one." (John Lennon)